NOTICE: Activation key must be used on a valid Steam account, requires internet connection.
Special Offer – Explorer's Edition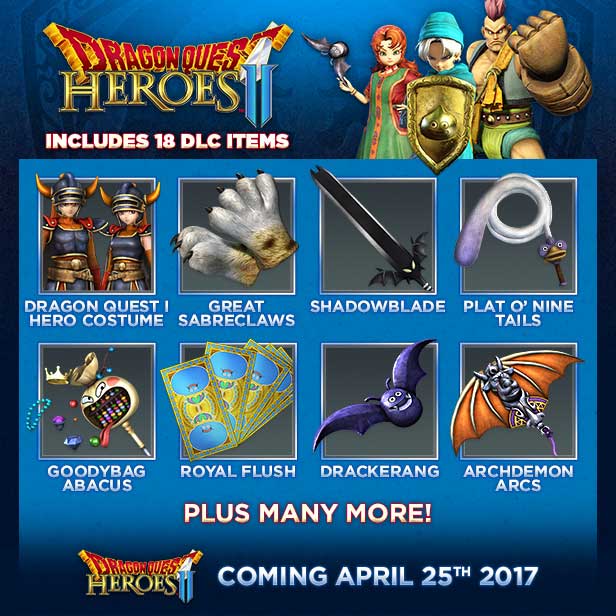 DRAGON QUEST HEROES™ II Explorer's Edition provides a huge arsenal of bonus items!
Purchase the Explorer's Edition for a limited time only for the ultimate start to your adventure!
18 bonus items in total:
Dragon Quest I Hero costume
Slime Knight's Shield
Great Sabreclaws
Robo-Bow
Slime Stack Stick
Imp's Fork
Plat o' One Tails
Golem Gauntlets
Drackerang
Goodybag Abacus
Shadowblade
Gem Slime Sword
Night Club
Robo-Razor
Royal Flush
Archdemon Arcs
Builder's Mallet
Aurora & Luceus costumes from Dragon Quest Heroes
About the game
DRAGON QUEST HEROES II is a hack-and-slash, field-roaming Action RPG that sends players on a new adventure to restore order to a once peaceful world filled with hordes of monsters and battles of epic proportions. Up to 4 players can band together in cooperative multiplayer to conquer swarms of enemies and defeat challenging boss monsters. There is also a cast of many playable characters each with unique moves and abilities – including a host of familiar faces from the DRAGON QUEST® series and four brand new heroes that must team up to defeat an unknown threat looming over the Seven Realms!
Key Features
Online Multiplayer – Up to 4 players can play online
Transform into a monster and battle as one of them
New world, new story & new adventures
Numerous unique characters each with unique abilities
Change your vocation and play in any fighting style with a variety of magic & weapons!
System Requirements
Windows – Minimum
Operating System: Windows 7/8.1/10 (64bit required)
Processor: Core i7 870 2.8GHz or better
Memory: 4GB RAM
Hard Disk Space: 40GB
Video Card: NVIDIA GeForce GTS 450 or AMD Radeon HD 5770
Sound: DirectX 9.0c over
DirectX®: Version 11
Windows – Recommended
Operating System: Windows 7/8.1/10 (64bit required)
Processor: Core i7 2600 3.4GHz or better
Memory: 4GB RAM
Hard Disk Space: 40GB
Video Card: NVIDIA GeForce GTX 650 Ti or AMD Radeon HD 7870
Sound: DirectX 9.0c over
DirectX®: Version 11
© 2016, 2017 ARMOR PROJECT/BIRD STUDIO/KOEI TECMO GAMES/SQUARE ENIX All Rights Reserved.
© SUGIYAMA KOBO