NOTICE: Activation key must be used on a valid Steam account. Requires internet connection.
Deluxe Edition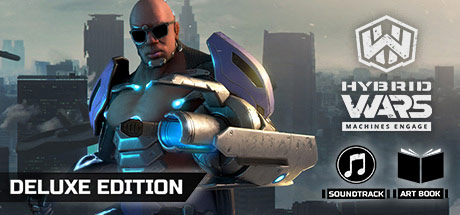 Includes digital art book and soundtrack
About the game
Hybrid Wars: A futuristic top-down mech shooter. Command and upgrade an arsenal of futuristic mechs to take on hordes of enemies across giant levels in this breakneck, challenging shooter.
In 2060, humanity is on the cusp of the second technological revolution. Earth has become a tangled web of information, energy and transportation networks watched from orbit by thousands of electric eyes. Sprawling cities, vast spaceports, and immense military complexes are dominated by tanks, choppers and variety of other machines that rule land, sea and sky. While corporations still pull the strings that control the world, their grip is starting to weaken.
Hybrid Wars lets you command and upgrade your own arsenal of futuristic mechs to take on wave after wave of enemy forces. Jump into a classic top-down shooter experience as you obliterate over 50 types of enemy and team up with friends to cause more mayhem. Harness an arsenal of diverse machines—tanks, robots, helicopters, and the mighty titans—to rise to the top of the food chain. With 8 huge locations to explore, over 150 objectives to complete, and multiple game modes—from single player story to cooperative — Hybrid Wars immerses you in a future where those with the quickest wits and biggest guns survive.
Choose your combat vehicle and start your fight for the future now.
Key Features
Discover multiple game modes
Dive into up to 15 hours of gameplay
Explore and conquer 8 huge, open-worlds
Overcome 150 challenging objectives
Earn 40+ rewards
Wield 2 diverse heroes
Command 4 dynamic types of vehicles: tanks, robots, helicopters, titans
Defeat 50+ types of enemies
Vanquish 8 powerful bosses
Lock and load with 20 types of weapon
Harness 28 additional abilities for each hero and vehicle type
System Requirements
Windows – Minimum
OS: Windows 7/8/8.1/10
Processor: Core i3 3.2GHz or equal
Memory: 4 GB RAM
Graphics: nVidia GTX 275 or AMD Radeon HD-7770
DirectX Version: 9.0c
Disk Space: 12 GB available space
Sound Card: DirectX 9 Compatible
Windows – Recommended
OS: Windows 7/8/8.1/10
Processor: Intel Core i7 or equal
Memory: 8 GB RAM
Graphics: nVidia GTX 770 or equal
DirectX Version: 9.0c
Disk Space: 12 GB
Sound Card: DirectX 9 Compatible
Mac – Minimum
OS: Mac 10.6 – 10.11 (Snow Leopard – El Capitan)
Processor: Intel Core i3 3.2GHz or equal
Memory: 4 GB RAM
Graphics: nVidia GTX 275 or AMD Radeon HD-7770
Disk Space: 12 GB available space
Mac – Recommended
OS: Mac 10.6 – 10.11 (Snow Leopard – El Capitan)
Processor: Intel Core i7 or equal
Memory: 8 GB RAM
Graphics: NVidia 560, ATI 5870 or better
Disk Space: 12 GB available space
Linux – Minimum
OS: Ubuntu 14.04 64-bit or newer, SteamOS
Processor: Intel Core i3 3.2GHz or equal
Memory: 6 GB
Graphics: nVidia GTX 275 or AMD Radeon HD-7770
Disk Space: 12 GB available space
Linux – Recommended
OS: Ubuntu 14.04 64-bit or newer, SteamOS
Processor: Intel Core i7 or equal
Memory: 8 GB
Graphics: nVidia GTX 770 or equal
Disk Space: 12 GB available space
© 2015—2016. All rights reserved