PRE-ORDER OFFER
---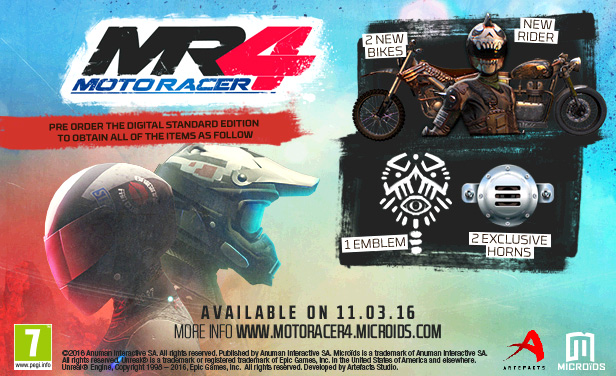 Pre Order the digital standard edition to obtain all of the
following items :
New Rider
New Bikes
2 Exclusive horns
1 Emblem
---
NOTICE: Activation key must be used on
a valid Steam account, requires internet connection.
ABOUT THE GAME
---
In a world dominated by freestyling and risk-taking, impose your
riding style throughout the world. Intimidate your opponents and
win your races!
Moto Racer 4 is a single and multi-player racing game (for
up to 10 players) offering an Asphalt and Off Road mode. The
fastest bikes will be your best allies in shaping the rider you
are. Master drifts, wheelies, swerves and many other techniques to
achieve this goal. Customise your bike to suit your personal tastes
and improve it to progress through the fantastic environments of
Moto Racer 4.
From the United States to the Himalayas via the desert, Moto Racer
4 will give you first-hand experience of breathtakingly hazardous
circuits. Obstacles, fierce opponents and even the police will get
in your way to try and stop you. Use the various circuit
backgrounds and landscapes to highlight your riding talents.
KEY FEATURES
---
1 GAME, 2 CATEGORIES ASPHALT & OFF ROAD
EVEN MORE CHALLENGES – In Progression Mode, excel yourself and
win the challenges laid down to access even more content!
IMPRESSIVE AND VARIED ENVIRONMENTS – From the Bay Area to the
Himalayas via the desert, prove that it's possible to freestyle on
a bike in any environment!
BIKES TO SUIT YOU – Using the customisation mode, personalise
your bike to suit your style.
CHALLENGE YOUR FRIENDS – Take on your friends in split screen
or online using the multi-player mode with up to 10 players per
race!
System requirements
---
Minimum:
OS: OS: Windows Vista, 7, 8, 8.1 or 10
Processor: Intel Core 2 Duo CPU E6550 at 2.33GHz
Memory: 4 GB RAM
Graphics: Video card must be 1 GB or more and should be a DirectX 11 – compatible
DirectX: Version 11
Storage: 12 GB available space
Sound Card: DirectX compatible
Minimum:
OS: OS X 10.9.2
Processor: Intel Core 2 Duo 2.4 GHz
Memory: 4 GB RAM
Graphics: OpenGL 4.1 compatible
Storage: 12 GB available space