NOTICE: Activation key must be used on a valid Steam account. Requires internet connection.
Preorder offer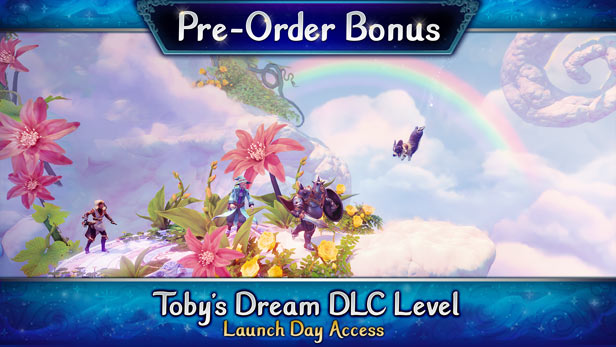 The Pre-Order bonus for Trine 4: The Nightmare Prince unlocks a special new level, Toby's Dream. Toby the dog, as previously seen in Nine Parchments, has his own adventure in Heatherwood Hall with the Three Heroes! Follow the pawsteps of Toby and help him find all the treats hidden in the castle and its gardens.
About the game
Experience the complete Trine series with Trine: Ultimate Collection.
Join Amadeus the Wizard, Pontius the Knight, and Zoya the Thief on a journey across a forsaken and ruined kingdom. Bound to a mysterious artifact called Trine, the three unlikely heroes use their unique skills to battle the undead, navigate treacherous environments, and solve challenging physics-based puzzles across a collection of perilous quests in this best-selling adventure series. Through the first three titles, the protagonists come to discover, understand, and seek to control the powers bestowed upon them by Trine.
The newest entry to the best-selling adventure series, Trine 4: The Nightmare Prince, returns to Trine's beloved 2.5D roots. Discover the mysterious Prince Selius, a troubled young wizard whose dark dreams have materialized to wreak havoc in reality. It is up to the band of heroes to resolve the situation before the prince's magical turmoil consumes the world in its shadows.
Trine 4 reaches new heights in the series, bringing the most complete gameplay experience ever to fans and new players alike!
Key features
The complete Trine experience. Includes all four titles in the series including Trine Enchanted Edition, Trine 2: Complete Story, Trine 3: Artifacts of Power and the all new Trine 4: The Nightmare Prince.
Intuitive puzzles. Harness the elements themselves and experiment with new skills to overcome challenges and obstacles.
Dynamic real-time combat. Switch between characters on the fly and adapt to any situation.
Boundary pushing graphics. Immersive atmosphere with next-gen visuals create a fantasy world begging to be explored.
Meaningful character building. Earn experience points and invest into upgrades for the heroes' abilities.
Rewarding exploration. Dozens of carefully designed and diverse levels to explore, each with distinctly unique environments and styles that are brimming with secrets to discover.
Local and online multiplayer. Brave the adventure alone or with friends in online or local co-op.
Engaging story. An expansive tale that unfolds across four fantastical fairytale adventures.
System Requirements
Windows – Minimum
Requires a 64-bit processor and operating system
OS: Windows 7/8/10
Processor: Intel quad-core 2.0 GHz or dual-core 2.6 GHz
Memory: 4 GB RAM
Graphics: NVIDIA GeForce GTX 560 or AMD Radeon HD 5700
DirectX: Version 11
Storage: 16 GB available space
Additional Notes: Integrated graphics may not run the game smoothly
Windows – Recommended
Requires a 64-bit processor and operating system
OS: Windows 7/8/10
Processor: Intel i7-4770 or AMD FX-8350
Memory: 8 GB RAM
Graphics: NVIDIA GeForce GTX 960 or AMD Radeon R9 280
DirectX: Version 11
Storage: 16 GB available space
Copyright © Frozenbyte Oy. "Trine" is a trademark or registered trademark of Frozenbyte Oy in the U.S. and other countries. All Rights Reserved.